GRAMMY TOKYO 3rd Anniversary
2015年5月1日 / 19:00〜25:00 / 5/1
Event outline
日本初!「FTMが主役になるクラブイベント」
FTM×エンターテイメントをテーマに掲げるTRANS GUYチーム 結成3周年 Club Event Party!!
"GRAMMY TOKYOは多様な性を応援しています"
皆様の生き方や選択肢が広がり、より自由に、自分らしく生きるためのキッカケになればと思い、様々な企画をプロデュース、運営しております。
参加者様のセクシャリティは問いません。どなたでもご自由に、またお気軽にご参加ください。
セクシャルマイノリティが自分らしく生きるために。ポジティブなボーダーレスを目指して。
TRANS GUYチームが作り出す音楽と空間
また素敵な出会いを、どうぞお楽しみください。
※一般:3000/1D  W.C.フライヤー割:2500/1D  学生:2000/1D
※未成年者の飲酒喫煙は固くお断りしております
※18歳未満入場不可
Come and dance with us!!
CLUB EVENT PARTY will take place on 1st May 2015.
hosted by the FTM Entertainment group, "GRAMMY TOKYO"
Any type of sexuality is welcome, please feel free to come!!
[What is GRAMMY TOKYO?]
"GRAMMY TOKYO supports any types of sexuality.
We are producing and operating different types of events for all of you to increase freedom of your future life. Don't forget, YOU CAN CHOOSE YOUR WAY TO GO!
This is the third year of GRAMMY TOKYO.
To achieve the positive community for sexual minorities, let us live TRUE TO OURSELVES!!
Enjoy this special opportunity to make connections and meet friends in an atmosphere of exciting music!!
[Admission] includes 1 free drink
※General: 3,000yen, Flyer discount: 2,500yen, Students: 2,000yen
※Under-age drinking and smoking are strictly prohibited by law. (Under 20 years old)
※Under 18 years old entry is NOT permitted. (ID will be checked at the door)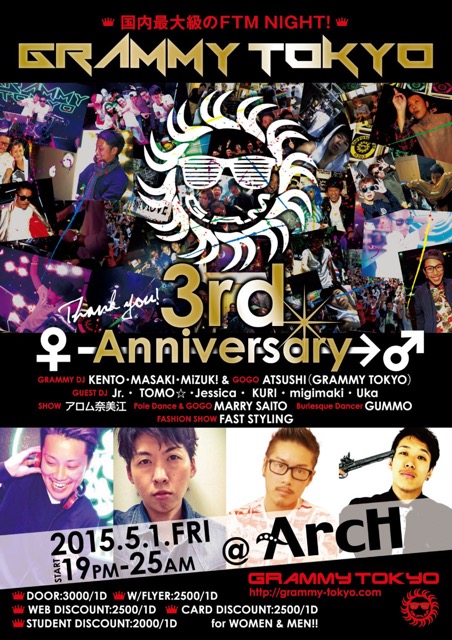 | | |
| --- | --- |
| Host | GRAMMY TOKYO / GRAMMY TOKYO |
| イベント規模 | 150人 |
| イベントページURL | http://grammy-tokyo.com |
| 参加申し込みリンク | |
| 主催者団体名 | GRAMMY TOKYO/GRAMMY TOKYO |
Access
【Arch】
新宿区新宿2-14-6 第2早川屋ビルB1